Vuze
with the Mainline DHT plugin is the recommended client.
Torrent description:
Project DIVA PC HD version 3.2 with a pack of HD songs.
Version 3.2 was originally released at 25 January, 2013.
New!
Get the update to version 3.3 from here:
#426655
An improved version of a freeware PC Rhythm-game about Vocaloids based on the PSP-game Hatsune Miku: Project DIVA.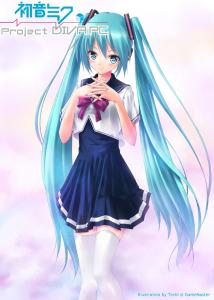 Check Options in Menu, there are many new features available there, such as fullscreen mode, H.264 support, auto video converter and UI options.
Official Project Diva PC Wiki:
http://map.divaol.com/
For more information, gameplay videos and newer songs please visit
http://vocaloidotaku.net/index.php?/topic/4718-project-diva-pc-version-chinese/
Simply unpack the Project Diva PC HD 3.2.rar somewhere to play it.
Unpack archives from /songs/ to /Project DIVA PC HD/song/ , PjD PC doesn't support subfolders, so contents of /Re-edited/ and /sapporo live/ must be copied directly to the folder /Project DIVA PC HD/song/ too.
Most of the songs from old PjD PC will work in this version too.
Project DIVA PC was created by Gamemaster
http://www.gamemastercn.com/
Old English version of the game with a huge pack of low-res songs can be downloaded from
//www.nyaa.se/?page=view&tid=178806
Gameplay and interface are similar to the PSP version.
Default controls:
W - triangle
A - square
S - cross
D - circle
and arrow keys
P - play PV
L - auto mode
Enter key is required to navigate in the main menu.
Songs in this torrent weren't checked for errors as hard as in all previous torrents, so I apologize for any possible problems with them.
I recommend you to ask your questions there
http://vocaloidotaku.net/index.php?/topic/4718-project-diva-pc-version-chinese/
because I can't check comments at nyaa regularly.
Files in torrent:
[
Show files
]
User comments:
[
Subscribe
]
Post a comment:
You need to be logged in to post a comment.