Name:
[VCB-Studio] VCB-Studio Service Pack 4 [batched fixing patch for our BDRip]
Date:
2015-08-22, 07:26 UTC
Submitter:

VCB-Studio

[Subscribe]
Seeders:

4

Tracker:
udp://208.67.16.113:8000/annonuce
Leechers:

0

Information:
Downloads:

6261

Stardom:
Only 3 fans.
File size:
15.92 GiB
Vuze
with the Mainline DHT plugin is the recommended client.
Torrent description:
VCB-Studio Service Pack Project
is a project aimed to provide batched upgrade for our released BDRip. It contains revisions, improvements and supplements that should make our BDRip releases better-off and flawless.
This is the 4th part of the project, SP4. It contains upgrades listed below,meanwile SP4 is NOT the last part for this project.
If you have downloaded our release of any following project, it is strongly recommended that you get the "upgrade patch" (None means we cannot find anywhere to improve at this moment ):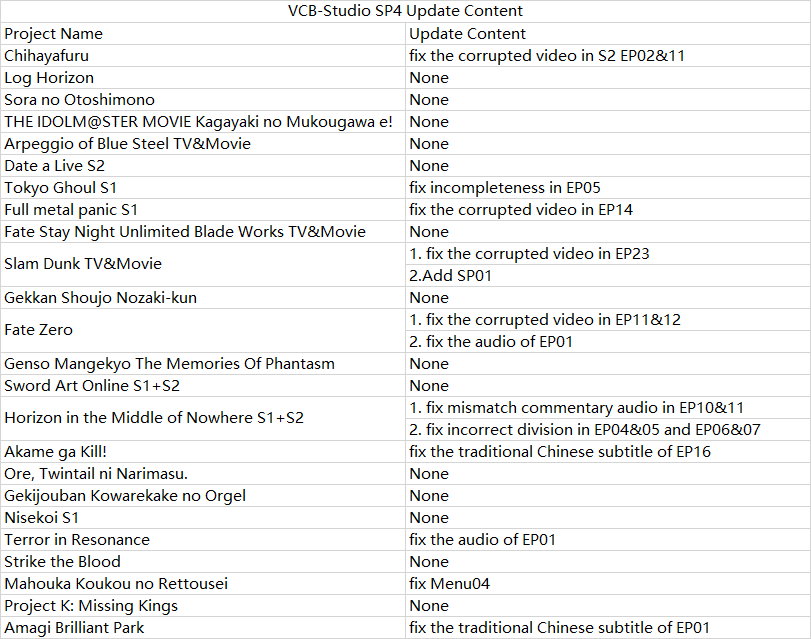 Files in torrent:
[
Show files
]
User comments:
[
Subscribe
]
No user comments have been posted.
Post a comment:
You need to be logged in to post a comment.