Name:
[JDrama] Watashi no Uchi ni wa Nanimo Nai 2016 Complete 720p HDTV x264 AAC-DoA
Date:
2017-02-17, 12:01 UTC
Submitter:

miax

[Subscribe]
Seeders:

1

Tracker:
http://open.nyaatorrents.info:6544/announce
Leechers:

6

Information:
http://asianwiki.com/My_Well-Organized_Home
Downloads:

1983

Stardom:
Only 4 fans.
File size:
3.02 GiB
Vuze
with the Mainline DHT plugin is the recommended client.
Torrent description:
Watashi no Uchi ni wa, Nanimo Nai 2016
わたしのウチには、なんにもない。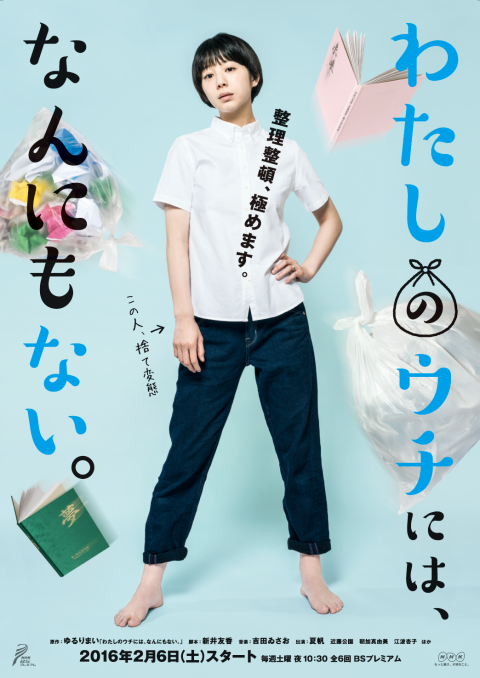 Also Known as: Watashi no Uchi ni wa, Nannimo Nai; I Have Nothing in My House
Synopsis:
Mai used to live in a messy room, but now has an obsession with decluttering. She wants to live a "Nannimo Nai" Lifestyle. However, when friends visit, they are shocked by her extreme lack of belongings. Her habits also conflict with her mother, Fumi, and her grandmother, Hatsuko, who prefer not to throw anything away. Mai finds emotional support from her husband, Tsutomu, and two cats as she examines the relationship between her possessions and her life. ~~ Based on the manga with the same name Yururi Mai.
Cast:
Kaho
Asaka Mayumi
Enami Kyoko
Details:
Country: Japan
Type: Drama
Episodes: 6
Aired: Feb 6, 2016 to Mar 12, 2016
Aired On: Saturday
Network: NHK BS Premium
Files in torrent:
[
Show files
]
User comments:
[
Subscribe
]
No user comments have been posted.
Post a comment:
You need to be logged in to post a comment.